Gingerbread honey cake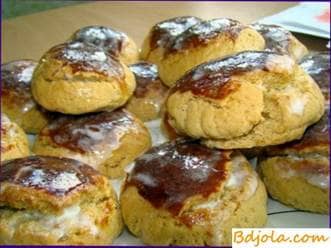 Proteins from 5 eggs and yolks from 3 eggs to bring down with honey (preferably with buckwheat), add wheat flour, crushed nutmeg, cinnamon and a bit of anise. Mix well and pour lightly toasted crushed almonds. Ready dough to swing a layer of 1 cm thick, cut out into shapes or bake whole.
Dough: 220 g of flour, 200 g of honey, 2 nutmegs, 2 g of cinnamon, 200 g of almonds.
Recipe 2
Gingerbread honey-cake.
All components, except milk, mix and, adding a thin trickle of milk, mix the mass well. Add 1/4 teaspoon of soda, knead the dough. Prepared mass pour into a mold and bake in the oven. You can add a little raisins or nuts to the honeycomb.
Dough: a glass of honey, as much sugar, 50 g of vegetable oil, a glass of milk, a glass of wheat flour.
Recipe 3
Gingerbread honey for your beloved.
In a rare honey, add softened butter, sugar, eggs, tea, cloves and mix thoroughly. Pour in wheat flour, soda and knead the dough. The form ("miracle" or for baking cake) is well lubricated with butter, put the dough into it and bake in the oven at a temperature of 200 њ C.
Dough: 300 g of honey, 3/4 cup of strong tea, one egg, 1/2 cup of sugar, 60 g of butter, 500 g of flour, 1/2 teaspoon of soda, 10-15 pcs. cloves (to grind).
Recipe 4
Gingerbread honey to wine.
Sugar, honey and eggs to knead to the formation of foam-like mass, add ground nuts, cinnamon and mix with baking powder flour. Ready-made dough roll out a layer of 0.5 cm thick and cut into strips 6-8 cm long and 1.5-2 cm wide.
Lay the cookies on an oiled sheet and bake at medium temperature. This honey can last for several days and not lose its taste.
Dough: 100 g of sugar, 2 tablespoons of honey, 2 eggs, 100 g of hazelnuts, 1/2 teaspoon of ground cinnamon, 250 g of flour, 1 packet of baking powder.
Gingerbread honey cake