Honey yeast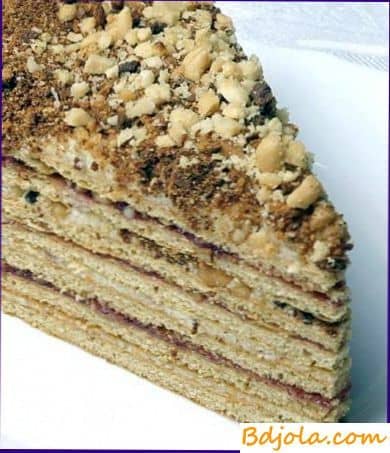 250 g of honey, 500 g of flour, 200 g of sugar, 4 eggs, 1 glass of milk, 20 g of yeast, 100 g of butter, 1 teaspoon of soda, ground cinnamon, 100 g of peas, 100 g of candied fruits or melon jam.
Rub oil with sugar and eggs, pour the honey welded with cinnamon, roasted yeast in milk and knead. Adding a little sifted flour with soda, grind to the consistency of thick sour cream. When the bubbles appear, knead with coarsely picked opeks, candied fruits or jam from melon and pour into greased and flour-torn form. The oven is first in a warm (150 њ C), and as a dough fits – in a hot (190-200 "C) oven for an hour.
Recipe 2
Cake sour cream.
For the test: 250 g of honey, 1 glass of sugar, 3 eggs, 3 tablespoons of vegetable oil, 50 ground walnuts, 1 teaspoon of soda, flour.
For cream: 50 ground nuts, powdered sugar to taste, 700-800 g sour cream or cream. We rub the honey, sugar and eggs, add in turn a spoonful of vegetable oil, soda, nuts and at the end of the flour until a naked test.
Divide the dough into 5-6 pieces. We roll each piece into a layer the size of a rectangular baking sheet. Sprinkle the bottom of the baking tray with flour and bake on medium heat. When all the layers are ready, we stand them for 2-3 days, then lubricate the cream.
Recipe 3
Cake "Elena" with honey.
Put in the pan sugar, margarine, eggs, honey for the dough, put on the fire, stirring with a wooden spoon. After heating, remove from the plate, pour in soda, citric acid and mix well. The last to pour in the flour. Knead the dough, leave it for 20 minutes, then roll it to 7-8 steep cakes and bake them in the oven.
When the cakes cool, glue them together with a cream, and grease the sides and top of the cake with cream and sprinkle with a lid (cook it from scraps of cake). Top decorate with chocolate.
Dough: 200 g of sugar, 200 g of margarine, 2 eggs, 2 tablespoons of honey, 20 g of soda, 2 g of citric acid, 600 g of flour, 25 g of chocolate.
Cream: 120 g of butter, 100 g of sugar, 60 g of condensed milk, 40 ml of water, 200 g of ground nuts.
Honey yeast