Honey rusks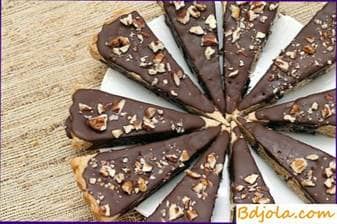 Dissolve the yeast in warm water. Mix the flour, milk, yeast, salt and place in a warm place to make the dough come up. If the dough is very soft, add egg, butter and enough flour to make it heavy. A little knead it and make biscuits in the form of a curl. Raisin, cardamom add to taste. Top with dried eggs, cover and let them come until they increase and become soft and loose. Bake for 20-25 minutes in a moderately heated oven or oven, covering with glaze just before the vent.
Dough: 1/3 cup honey, 3 cups flour, 2 cups milk, 1/2 cup warm water, 80 g yeast, 1/4 teaspoon salt, 3 tablespoons melted butter, raisins, cardamom seed, egg, a cup of flour.
Recipe 2
Nut biscuits with honey.
Kernels of nuts to pour boiling water, so they will be freed from scales. Dry them, after that, chew with sugar, add honey and half the proteins prescribed by the recipe. Double pass through the meat grinder, So that there are no lumps left. To this mass, add the flour and the rest of the proteins, mix everything thoroughly. Put the prepared dough in dessert spoonfuls on a sheet, greased with oil. The furnace is 12-15 minutes at medium temperature (170-200 њ C).
Dough (per 1 kg of cookies): 250 g of honey, 350 g of sugar, 150 g of wheat flour, 10 proteins, 300 g of peeled nuts.
Recipe 3
Cookies honey "Ladies fingers".
Mix the warmed honey with butter, add the beaten eggs and flour sifted through the sieve, along with other dry ingredients. Cut the dough strips, roll them in sugar. Bake in a hot oven.
Dough: a glass of honey, 2 eggs, 1/4 cup melted butter, 4 glasses of flour, a teaspoon of soda, a teaspoon of salt, sugar to taste.
Honey rusks