Honey gingerbread with cherries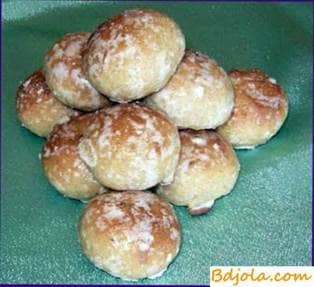 Honey (4 tablespoons), eggs, water, ammonium, lemon zest, grated chocolate, sugar, knock down until the formation of foam. Add the semolina, to which you want to make stoned cherries and finely chopped cherries, mix. The mixture is poured into a paper that has been poorly shaped and baked in medium heat for 45-50 minutes. Mix cherry jam with a tablespoon of honey, add crushed nuts and blend the cooled gingerbread with this mixture. Cut into the crescents.
Recipe 2
Honey gingerbread with nuts.
In an enamel bowl, bring down honey, sugar, yolks, butter and crushed sifted spices in a water bath, 3 tablespoons of milk, until the mass thickens. Cool, stirring. Pour soda into the flour, fry the walnut kernels, powder them and add them to the prepared mixture together with flour. Dilute the dough well with beaten egg whites and the rest of the milk. Stir everything, pour into oiled paper and immediately bake at an average temperature of 40-50 minutes. Lay the gingerbread out of the mold, cool it. Cool the croquet with glaze with cocoa. When the glaze dries, cut into pieces of medium size and decorate with candied fruit.
Dough: 250 g of honey, 450 g of flour, 200 g of powdered sugar, 3 eggs, 100 g of butter, a little anise, cinnamon, cloves, 1/8 l of milk, soda, 150 g of kernels of nuts, candied fruit.
Glaze: knock down one egg white with twice missed through a thick sieve with powdered sugar in a strong shiny foam. If the foam is very rare, you need to add sugar or a few drops of lemon juice. If all the icing is not used, it should be covered with a wet napkin, so as not to wither. To prepare the glaze, you need 80-100 g of sugared through a thick sieve, one protein, 20 g of cocoa powder.
Dough: 5 tablespoons of honey, 200 g of semolina, 150 g of powdered sugar, 5 eggs, 3 tablespoons of warm water, 100 g of walnuts passed through the meat grinder, 20 g of chocolate, 1/2 lemon rind, ammonium, 300 g of compote, 100 g of cherry jam, chopped walnuts to taste.
Honey gingerbread with cherries