Easy honeycomb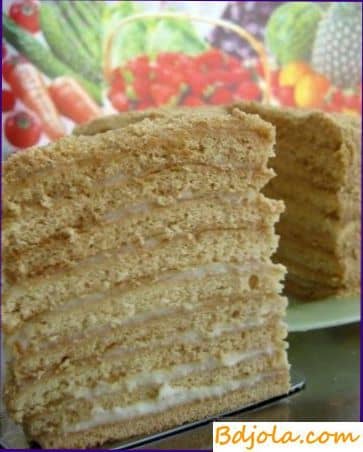 Foods for preparation: 500 g of honey, 2 eggs, 2 egg yolks, 60 g of sugar, 500 g of flour, 1 teaspoon of baking soda, a pinch of salt and ground cinnamon, grated peel from one lemon, 50 g of ground kernels of walnut or almonds for sprinkling).
Stir well melted honey with whole eggs and egg yolks, sugar, baking soda, salt, ground cinnamon and grated lemon zest to make a foamy mass. Then, gradually adding flour, knead the dough, lay it in a layer of greased butter, sprinkled with a baking sheet, sprinkle with a grounded walnut kernel or chopped almonds. Bake in oven at a moderate temperature for 30 minutes. Cool the cake cut into squares or bricks.
Recipe 2
Cake-honey "Chanterelle".
It will take 3 eggs, 3 tbsp. l. honey, 150 g of margarine, 1 tbsp. sugar, 2 tsp. soda, 5-6 tbsp. flour. For cream: 1 liter of milk, 2 eggs, 1 tbsp. sugar, 1 tbsp. l. cocoa, 2 tbsp. l. flour. For decoration: Coconut shaving of different colors, round shaped pellets, sugar beads
Dough
1.All the ingredients for the dough (except the flour), combine and cook, stirring, in a water bath until the mass rises. On the table, pour out the flour, then pour out the hot dough and mix it.
2. The dough is divided into pieces, each roll out onto the whole baking tray, attach patterns, cut with a knife.
3. Bake cakes in the oven and immediately remove from the baking tray. Bake cakes quickly.
4.Chr. Eggs grind with sugar, add cocoa, flour, mix. Then pour the milk and mix so that there are no lumps. Cooking, stirring, in a water bath.
5. Cover the skin with hot cream.
6. Cover the top and sides of the cake with cream, decorate with multicolored coconut shaving, dragees, sugar beads.
Recipe 3
A special medovik.
Food for preparation: 800 g of flour, 650 g of honey, 250 g of goose fat, 120 g of sugar, 8 eggs, a rum of rum, 1 teaspoon of ground cinnamon, 1 teaspoon of ground cloves, several walnut kernels in quarters.
Honey, goose fat, sugar boil and pour into the deep-burning flour. Mix the mass well with a wooden spoon and, while it's still warm, add to it rum, cinnamon, cloves, egg yolks and whipped egg whites.
Before the dough is poured into the mold, add a nut to it.
Shape the oil with oil, sprinkle with flour and fill it with half-height test, as it rises during baking. Bake the product at low temperature. This portion is preferably baked in two forms or in two stages.
Easy honeycomb