Honey sour cream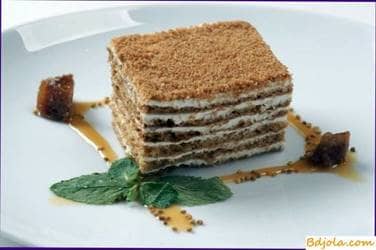 Food for preparation: 1 kg of flour, 250 g of honey, 250 g of sugar, 250 g of butter, 6 eggs, 500 g of sour cream, 100 g of chopped walnut or hazelnut, 1 teaspoon of ground cinnamon and baking soda.
Butter with sugar and grind the egg yolks. Pour to this mass of cooked with cinnamon, still warm honey and rub again. Then add the sour cream, pour in the flour, baking soda, mix the sour cream to a consistency and grind until the bubbles appear in the mass. After that, add a strong foam of beaten egg whites and chopped nuts. Pour the resulting mass into a greased butter, a flour-poured baking pan and bake first at low, then at medium temperature for an hour. Remove the mediwick from the mold in a cold state.
Recipe 2
Medovik with apricot filling.
Dough products: 500 g of flour, 100 g of butter, 200 g of powdered sugar, 500 g of milk, a pinch of baking soda, 1 whole egg and 1 egg yolk, 1 packet of vanilla sugar, 2-3 full st. spoons of honey.
For the filling: 4-5 tbsp. spoons of apricot jam, 200 g of ground walnut kernel, 150 g of sugar.
Flour the flour well with butter, then with sugar powder, cold honey, whole egg and egg yolk, vanilla sugar, baking soda, diluted in 50 g of milk. Well knead and put on 1 hour in a warm place. Then 2/3 of the dough is rolled into a layer 1-2 cm thick, put it in a prepared baking sheet, spread a thin layer of jam (jam), pour out and smooth out a thick syrup, prepared from sugar-filled ground nuts. The remaining dough is rolled into thin flagella and laid with a grate on the cake. Bake in oven at moderate temperature.
Honey sour cream