Nut-honey biscuits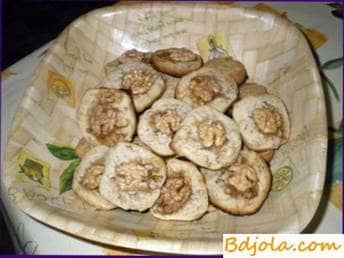 Stir well the food, add egg whites to the foam and mix gently once more. Sheet grease with butter, a teaspoon spread on it dough in the form of tubercles and oven at low temperature.
Dough: 50 g of honey, 100 g of sugar, 6 eggs, 300 g of ground walnuts, 50 g of hazelnuts (roasted), a little lemon juice, grated lemon peel.
Recipe 2
Cookies made from oatmeal.
Butter to grind with sugar, add honey, sour cream, eggs and oat flakes, mixed with flour. Knead the dough and roll it out. With a glass, cut out the cookies and bake in the oven at medium temperature until light brown.
Cool cookies carefully from the sheet with a knife.
Dough: 1/2 cup of honey, 1/2 cup of sugar, a glass of oatmeal, a glass of flour, 1/2 cup of sour cream, 100 g of butter, 1 egg, 1/4 teaspoon of soda.
Recipe 3
Cookies honey sugar rings.
Mix the whites, cinnamon, honey and flour, knocked down with sugar. Well knead, roll out the 3mm layer, cut into a notch in the form of a ring and bake in a hot oven on a buttered sheet of butter. Remove from oven and grease hot rings with a thick sugar syrup.
Dough: tablespoon of honey, 250 g of sugar, 3 protein, a bunch of salt, 250 g of flour.
Recipe 4
Honey nuts cookies.
To bring down fat, honey, egg and sugar, add flour and soda (you can add a portion of the flour grinding). The dough is cooled, rolled into thin sausages, cut into small pieces – nuts. Furnace at medium temperature.
Dough: 80 g of honey, 25 g of sugar, 90 g of fat, 1 egg, 200 g of wheat flour, 1/2 teaspoon of soda.
Nut-honey biscuits