Baklava puff with honey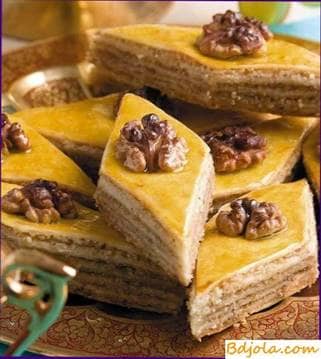 In the dishes, pour warm water with yeast diluted in it, then gradually pour in the flour with continuous stirring. After that, knead the dough for 15-20 minutes and put it in a warm place for 30-40 minutes, covering it with a towel. The filling is prepared in the same way as for baklava. The dough is divided into 14 parts. On the table, dusted with flour, roll out dough pieces in the form of layers with a rolling pin and grease them with melted butter. On a lubricated oil pan put the dough into three layers, and on the third layer of the dough pour 1/5 of the prepared filling and on top again the dough sheet.
Then sprinkle the filling four times every two layers, cover with three layers of dough, grease the surface with egg yolk, cut into rhomboid and put in a hot oven for 30-35 minutes. After 10-12 minutes after planting the product in the oven, pour it with melted butter. Finished product pour on the lines of notches heated honey.
For the test it is necessary: ​​flour – 750 g, yeast – 50 g, water – 200 g; for the filling: kernels of nuts – 300 g, sugar – 300 g, cardamom – 3 g; for interlayer: melted butter-175 g; for pouring: honey-150 g and melted butter-110 g; for lubricating baklava: egg yolks – 2 (from Armenian cuisine).
Recipe 2
Cookies bagels with honey.
Pass through the meat grinder soft cheese. Mix it with butter, margarine, sour cream, add a bunch of salt and flour so that the dough is elastic. Divide the dough into 4 identical pieces, roll each to a round cake 2-3 mm thick, cut into triangles, put the filling and roll from the wide end to the narrow one. Tear the ends and oven in the oven at 180 њ C.
Dough: 250 g soft raw, 250 g butter or margarine, a glass of sour cream, a bunch of salt, flour so that the dough was elastic.
Filling: 2 tablespoons of honey, 250 g of soft cheese, yolk 1 egg, grate carrot in a small grater, (put out in a deep frying pan, cool, add a little honey and cheese), you can make a carrot or carrot-apple filling.
Recipe 3
Cookies honey "Steppe aroma".
Preheat the honey, not allowing boiling, remove the foam and cool it. Add eggs, vodka, chopped almonds, a little cinnamon, cloves, nutmeg, lemon or orange peel, juice of one or two lemons and about 10 g of dry yeast. Mix everything well, pour in wheat or rye flour after that, so that not very steep dough comes out. Well knead, roll out, cut into pieces and bake. Top with a biscuit protein.
Dough: 1,6 kg of honey, 4 eggs, a tablespoon of vodka, 200 g of sliced ​​almonds, cinnamon, cloves, nutmeg, lemon and orange peel, juice of 2 lemons, 10 g of dry yeast.
Baklava puff with honey