Medovik "to wine&quot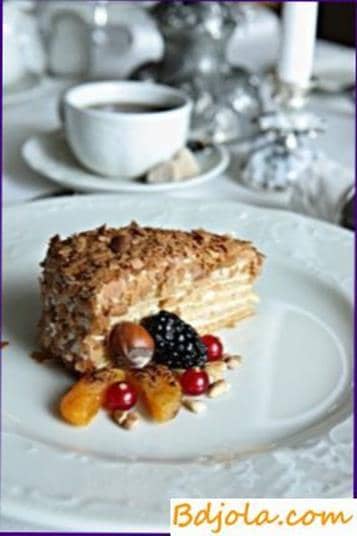 Food for preparation: 100 g of sugar, 2 tbsp. spoons of honey, 2 eggs, 100 g hazelnut, 1/2 teaspoon ground cinnamon, 250 g flour, 1 packet of powder for biscuits.
Sugar, honey and eggs are mixed until a foamy mass is obtained, add ground nut, cinnamon and mixed flour with flour powder.
The resulting dough rolled out a rolling pin into a layer 0.5 cm thick and cut into strips 6-8 cm long, 1.5-2 cm wide.
Put the products in a greased baking sheet and bake at medium temperature. This medovik can persist for several days and not lose taste.
Recipe 2
Cake medovik "Anniversary basket for the grandmother.
Necessary products. For the test: 3 eggs, 3 tsp. soda, 90 g of margarine, 1.5 cups of sugar, 4 cups of flour, 1.5 tbsp. l. honey. For roses: 2 eggs, 0.5 cups of sugar, 0.5 cups of flour. For a cream: 1 glass of sour cream, 1.5 cups of sugar.
Cooking method.
Dough: beat the eggs with soda. In a separate dish, melt on a small fire honey, margarine and sugar. When the sugar melts, pour a thin trickle, all the while stirring, eggs, whipped with soda. Stir well and remove from heat. We pour the flour so that the dough can be rolled out. Roll out the dough and cut out the cakes of this form, which you will have a basket. Bake until golden brown. The cake from one knead should be 12-14 pieces.
Cream: beat the sour cream with sugar, grease all the cakes. We proceed to registration. Peach the roses. We break eggs, sugar and flour. Place the dough on a baking tray with a teaspoon and bake until cooked.
Of still hot ready pancakes we make rosettes. Top the cake with cream. We spread the roses and from the oil cream do the leaves. The handle for the basket is made from the same dough as the cakes. Just add more flour.
We put the pen in the basket and the cake is ready. A cake can be made in any shape, not just a basket. Bon Appetit.
Medovik "to wine&quot