Honeycomb for the beloved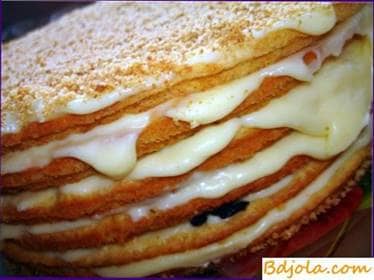 In liquid honey add softened butter, sugar, egg, tea, cloves and mix thoroughly. Pour in wheat flour, soda and knead the dough. The form ("miracle" or for the cake) is well lubricated with butter, put the dough and bake in the oven at a temperature of 200 њ. The norm of the products: honey – 300 g, strong tea -3/4 cup, eggs – 1 piece, sugar – 1/2 cup, butter – 60 g, flour 550 g, soda drinking – 1/2 teaspoon spoon, butter for the lubrication of the mold – 20 g, cloves (chopped) – 10-15 pcs.
Recipe 2
Pumpkin cake with honey.
Mix flour with sugar and add grated pumpkin. Mix and grind everything with honey, spices and milk.
Dough: 2 cups of gourd wipe through a sieve, a glass of honey, 2-3 cups of sugar, 4 tablespoons of flour, 2 teaspoons of ginger, 1 teaspoon of cinnamon, 3 glasses of milk.
Recipe 3
Cake "French" with honey.
Separate yolks from proteins, bring down proteins, add sugar, honey, soda and flour, and mix thoroughly. Knead the dough, divide it into 3 parts and bake the cakes.
Form for baking cakes grease with oil, cover the bottom with its parchment paper, grease it with butter and sprinkle with flour. Distribute the dough in the form with a damp hand. Bake at medium temperature. First and second cakes cover with cream and sprinkle with ground kernels of walnuts and chopped prunes (from the steamed prunes remove the stone). Top and sides of the cake cover with cream and decorate with prune pieces and halves of walnut kernels.
Dough: 4 eggs, 1/3 cup sugar, 4 tablespoons honey, 1/2 teaspoon soda, 2.5 cups flour.
Cream: 300 g of butter, 3 yolks, a glass of powdered sugar, 2 glasses of thick sour cream, a glass of crushed walnut kernels, 300 g of prunes. Rinse oil with sugar powder until a loose mass forms and add sour cream to it.
Honeycomb for the beloved