Recipes of fruits with honey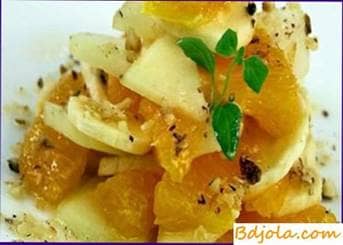 Berries (viburnum, raspberry, strawberry) with snow.
Kill the proteins and add honey. Berries put in a la carte dishes and decorate with whipped proteins on top. 500 g of berries, 2 tablespoons of honey, squirrels of 2 eggs.
Berries with soft cheese.
Cheese grind with milk, add mashed potatoes from berries and honey, stir all together 200 g of berries, 200 g of cheese, 2 tablespoons of honey, 2 tablespoons of milk.
Apricots with honey.
Small for size, strong, but ripe apricots well washed and put in jars. Water with honey boil well, pour over the apricots with hot syrup and allow them to cool. Then the banks tightly close and put in a pan with a trellised liner. From the boiling point of the water, sterilize 8 minutes (or 25 minutes at 85 њ C). Remove the jars from the pan after cooling. 3 kg of peeled apricots, 2 liters of water, 750 g of honey.
Strawberries with honey.
Fresh, washed and peeled strawberries put in a dish and pour a rare honey. To ensure that the berries are not sour, they are left in a closed jar for several hours. Serve with whipped cream. You can also cook other berries.
Apples, soaked in honey water.
Boil honey, salt and water. Pour this mixture of apples, laid in enameled dishes. After 30-40 days, apples are ready. 600 g of honey, 3 tablespoons of salt, 10 liters of water.
Apples with honey and oatmeal.
Oat flakes and sugar to fry, stirring, in a frying pan until the sugar becomes caramel-like, and the flakes do not darken. Grate or finely cut apples, mix with berry juice, honey and oat flakes. You can replace the oatmeal flakes with grated dried and pre-roasted rye bread. 35 g of oat flakes, 15 g of sugar, 150 g of apples, 1/4 cup of berry juice, 50 g of honey.
An apple with sour cream and honey.
Peel apples, grate on a large grater, add honey, cinnamon, mix and spread into a serving bowl.
Top put down sour cream. 1 kg of apples, 1/2 cup of sour cream, 4 tablespoons of honey, 1/2 teaspoon of cinnamon.
Apples stuffed with carrots.
Apples should be washed, the core and part of the pulp removed, problanshirovat, cut in half and sprinkled with lemon juice. Carrots clean, cut finely and mix with other products. Fill the apples with prepared carrots, forming a slide. Decorate with cucumber slices and greens. 3-4 apples, 200 g carrots, 10 grams of oil, 20 g of honey, 3 g of pickled cucumbers, a little pepper, green.
Baked apples.
Apples are washed, cut the core together with the peduncle, so that a conical groove is formed. Pour honey into this cavity. On a sheet of apples, pour a little water and bake in the oven. Serve apples with jam, syrup, honey.
Pears with honey.
Ripe pears boil in water, half diluted with honey. After, readiness to strain, pears to sprinkle with sugar, put on a sheet, sent by straw, and put in the oven. After 15-20 minutes remove the sheet, immerse the pears in honey syrup and put again to dry in the oven. Repeat the procedure 3-4 times. The last time before drying the pears sprinkle a little cinnamon.
Pastila from gooseberry.
Ripe berries to put in a pan (fill it up to the top), cover with a lid and put in a hot oven. When berries become soft, they must be wiped through a sieve. Obtain the resulting pulp mass in foam, add sugar syrup (500 g of mass 1 liter of syrup) or 1 kg of honey. Honey before mixing is also brought down to a homogeneous white mass. The prepared mixture is again knocked off, poured into molds and put in the oven for baking. Ready chilli to cool, sprinkle with powdered sugar and wrap with parchment paper.
Fruit jelly from gooseberry.
Ripe rinsed berries (1 kg) put in an enamel bowl, pour a glass of water and cook on low heat, rubbing with a wooden spoon. Then pass through a sieve. For 1 kg of puree take 500-600 g of honey and cook until thick. Ready marmalade to keep in closed jars in a cool place.
Kalina, steamed with honey.
Berries of a guelder-rose are separated from twigs, it is good to wash out and put in clay or enameled utensils. Add honey (1/5 of the mass of the mass of the berries), fill with water, close tightly and soak in the oven for 10-12 hours.
Antimicrobial and anti-bodily properties of honey are used for preserving food products. For example, honey-preserved butter can be stored at a temperature of 18-20 њ C for at least 6 months. To do this, wash the washed jar from inside with honey, put butter and pour honey on top (2-3 cm layer). You can also preserve other products. Well preserved berries in honey: a mixture of black currant berries with honey 1: 1 (after the mass) is well preserved in glass jars covered with plastic lids. This mixture is a wonderful concentrate of vitamins, which is useful for people of any age. Keep it in a cool place.
Recipes of fruits with honey