Artificial honey-maker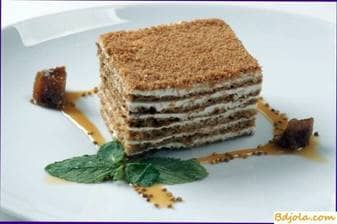 Foods for preparation: 250 g of sugar, 250 g of water, 100 g of lard or margarine, 1 egg, ground cinnamon, grated peel with one lemon, 1 teaspoon of baking soda; flour (as required for the preparation of medium consistency test).
Sugar to brown in aluminum dishes and dilute it in water. Fat to mix up to a foamy state, to house to it an egg, ground cinnamon, a warm sugar syrup and grated lemon zest. Then, continuously stirring, gradually add flour mixed with baking soda.
Knead out of all these products a medium-consistency dough. Put the mass in greased, flour-sprinkled baking sheet and bake in the oven at low temperature for up to 40 minutes. Ready cork cut into any geometric shapes.
Recipe 2
Nut-honey loaf.
Food for preparation: 250 g of flour, 200 g of honey, 120 g of sugar, 4 eggs, 120 g of walnut, 50 g of raisins. Honey mix with sugar, eggs and flour, add nut kernels and chopped raisins.
Long form for baking loaves or muffins to grease with butter, sprinkle with flour and bake dough in it at low temperature. Cooled bread cut into pieces of various shapes.
Recipe 3
Honey bread.
Food for preparation: 350 g flour II class, 2 eggs, 3 tbsp. spoonfuls (full) of sugar, a teaspoon of ground cloves, ground cinnamon, soda, 250 g of honey, 150 g of walnut kernel.
In a deep bowl, stir eggs and sugar, add to them steamed honey (dishes in which honey was heated, rinse out 100 g of boiling water and pour it also into food), pour in flour, soda and chopped nuts.
The resulting mass is poured into a large baking sheet, oiled and sprinkled with flour, and baked at low temperature.
Artificial honey-maker