Fruit pie with honey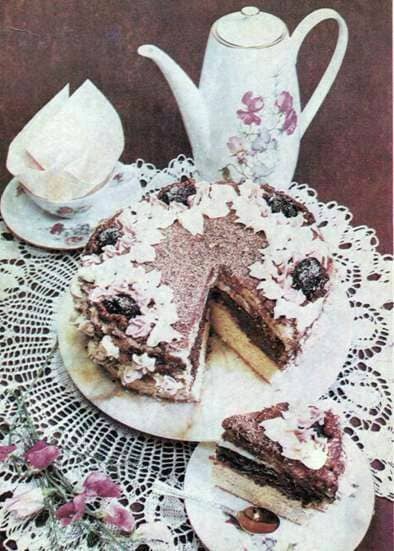 For the filling you can take any fruits: apples, pears, plums, cherries, peaches.
Shape the cake oil, apples or pears cut into thin slices, removing the core. Top with 2 handfuls of any small berries: cherry or currant, 6 small eggs to beat from 1.5 cups of sugar and vanillin. 2.5 cups of flour mixed with 1 tsp. baking powder for dough and mix into the sugar-egg mixture. When the mass becomes uniform, pour it on the fruit, trying to distribute the dough evenly. Put in an oven, heated to 180 њ, and bake for about 30 minutes before sampling for a "dry stick." Meanwhile, 50 g of bitter chocolate melt with 2 tsp. butter and 1/2 tbsp. l. honey. When the pie is cooled, turn it upside down on the dish and cover with glaze.
Mom's cake "Firm"
Dough: 2 eggs, 1 can of condensed milk, 2 tablespoons. l. honey, 2 tbsp. l. melted butter, 1 cup flour, 1 tsp. soda hydrated 1 tbsp. l. vinegar.
Cream: 500 g of sour cream, 2 cups of sugar.
Combine all the products for the dough. Alternately, bake 4-5 cakes with a thickness of 0.5-1 cm. For cream, whip the sour cream with sugar.
Ready cakes skim the cream and add to each other. Cake decorate with edged crumb, marmalade "lemon slices" and berries from any jam.





(
1
votes, average:
5.00
out of 5)
Fruit pie with honey