Withering and sun-damaged skin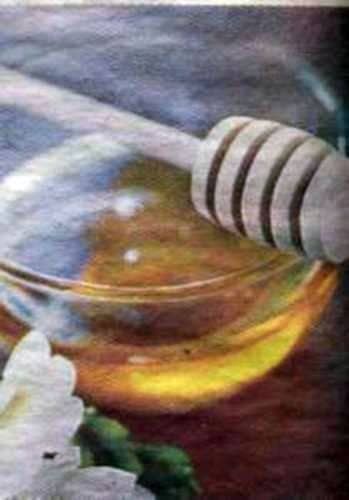 Honey is not only food and health, it is also beauty. Stunning cosmetic properties of this product are known since ancient times. Honey masks soften, strengthen and nourish the skin, increase its elasticity and prevent the appearance of wrinkles.
All masks, cooked on the basis of honey, are washed off only with cool water without soap, foams and gels, then you can wipe your face with a slice of lemon.
To increase the viscosity of liquid honey masks, it is recommended to add fiber to them.
Masks for fading and sun-damaged skin.
– Crude yolk, 1 tbsp. l. vegetable oil and honey. Apply to the face several layers.
– For 1 tsp. glycerin and honey, dilute 2 tsp. water. Instead of glycerin, you can take 3 tsp. vodka, in this case, water is not necessary to add. To the mixture can add 1 tsp. oatmeal or wheat flour.
– 1 tbsp. l. of liquid honey stir with 1 tbsp. l. warm milk, apply on face and leave for 20 min.
To prevent wrinkles mask from fresh honey 1 should be applied at least 2 times a week.
Masks for dry and normal skin.
– 100 g of honey, 25 ml of alcohol, 25 ml of boiled water.
– 100 g of honey and juice of 1 lemon or 1 tbsp. l. honey for 7-10 drops of juice.
– 1 tbsp. l. honey, raw yolk and 1 tsp. sour cream.
– 1 tbsp. l. slightly warmed honey, the same amount of oatmeal and whipped protein.
Masks for oily skin.
– Honey and mashed fresh cottage cheese.
– You can apply liquid honey in its pure form. It is applied to the skin with a soft brush.
Nourishing mask.
– Mix the yolk, 1 tsp. honey, 1 tsp. sour cream or olive oil. Apply mask to face for 15 minutes.
– Mix 2 tbsp. l. cottage cheese, 1 tbsp. l. milk and 1 tsp. honey.
Hair masks.
– Connect 2 yolks, 100 grams of rye bread and 2 tbsp. l. honey,
stir in a homogeneous mass. Apply to hair. After 30 minutes rinse.
– A mixture of honey with grated onions – an excellent tool for strengthening hair and fighting dandruff. For dry hair, you can add 1 tbsp. l. vegetable oil. Rub into the scalp, after 3-40 minutes rinse with warm water.
– Infusion of chamomile with honey softens the hair and gives them shine – 20 g of dried chamomile flowers medicinal pour a glass of boiling water. Infuse 40-50 minutes, strain, discard the residue, add to the infusion 3 tsp. honey and stir until dissolved. Pre-washed hair moistened with infusion, after 40-50 minutes, wash hair with warm water without shampoo.
Honey creams for hands and feet.
– Honey softens the skin of hands – 3 tbsp. l. glycerin, 1 tsp. kneaded alcohol, a bit of borax on the tip of the knife, 1 tsp. honey and 1/2 cup of water. Shake the mixture before use.
– Cracks appeared on the heels? First make a soda foot bath, then lubricate the heels with a therapeutic mixture of olive oil and honey in a ratio of 1: 1.
Secrets of Cleopatra.
– To make your skin tender and smooth, you need to devote yourself only 1 hour to make a cosmetic bath with the recipe of Cleopatra.
To do this, heat 1 liter of milk, not bringing to a boil, and in another dish in a water bath – a cup of honey.
Dissolve honey in hot milk, add 2 tbsp. l. of almond oil and pour the mixture into the bathing water.
Withering and sun-damaged skin