Honeycomb with hazelnuts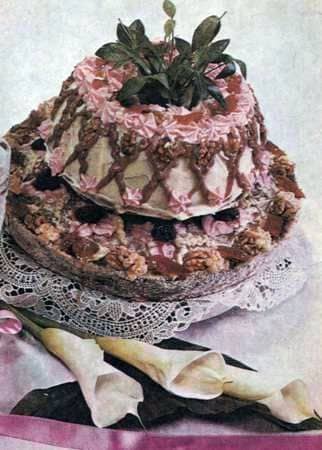 400 g of honey, 300 g of sugar, 4 eggs, 1 kg of flour, 1 glass of beer or sour cream, 1 glass of forest oaks, 1 teaspoon of soda and ground cinnamon, 1/2 peel of lemon.
Rub the yolks first with sugar, zest, and then with honey, cooked with cinnamon. Pour the beer or sour cream, pour the sifted flour with soda and grate until the bubbles appear. The mass should have a consistency of thick sour cream, and if it is rare, then add flour. Knead with roughly roasted toasted toast and pour into greased and flour-torn form, and sprinkle with sprinkled sprinkled on top. The oven is first in a warm (150 њ C), and as a dough is suitable – in a hot (200 њ C) oven. Remove from the mold cold.
Recipe 2
Cake with "roses" and honey.
Cream: whip 1 liter of sour cream with vanillin and 1 glass of sugar.
Glaze: 3 tbsp. l. sugar, 3 tbsp. l. sour cream, 2 tbsp. l. cocoa, mix everything, melt, add a little butter.
Dough: 4 tbsp. l. honey, 2 cups sugar, 120 g butter, b eggs – melt in a water bath. Then add 4 tsp. soda, stir well to foam, and add 2.5-3 cups of flour to a little brewed in a hot mixture (5 min.). Cool and mix.
Divide the dough into flat cakes (13 pcs.) And let it lie in the fridge. Roll out thinly and bake. The cakes can be peeled with nuts or chocolate chips. Sprinkle the sides of the cake with crumbs.
You can make a cake in 3-4 tiers (respectively, make more test). The top of the cake decorate, as fantasy tells.
I decorated with peeled hazelnuts, small "bananas" of marmalade, "twigs" of meringues, (sold everywhere in stores), but I made the "roses" myself.
Honeycomb with hazelnuts