Curative recipes with pollen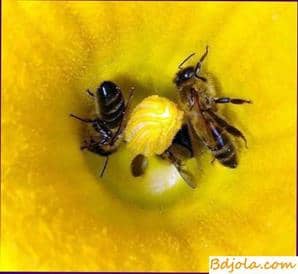 The French scientist Allen Cayas recommends several recipes of medicinal preparations with flower pollen, which are entirely available for cooking at home.
Recipe 1
Dilute in water (800 g) 50 g of pollen and 180 g of honey and leave the mixture for several days at a temperature of 20 њ C for fermentation. Drink 3/4 cup before meals. At the end of one portion, a new portion is prepared.
Recipe 2
Mix 50 g of honey, 10 g of pollen, 100 g of fresh milk. After prolonged stirring, bring the mixture to a homogeneous mass. Keep in a cool dark place. Drink three times a day in a teaspoon.
Recipe 3
Stir to a homogeneous mass of 50 g of pollen and 250 g of honey. Store in a dark glass container at room temperature. 4 days after fermentation, you can use, pre-stirring, 2-3 times a day for a tablespoon 30 minutes before eating.
Recipe 4
Flower pollen (20 g), royal jelly (2 g), mix well with crystallized honey (500 g). Put the mixture in a bowl of dark glass, close tightly and store in a cool place. Drink on a teaspoon 2-3 times a day before eating. It acts well on the body with asthenic origin neuroses, stimulating acts with general weakness and in the period of convalescence in various diseases.
Recipe 5
Stir well the pollen (20 g) and honey (500 g), add fresh aloe juice (75 g), mix thoroughly until a uniform mass is formed. The dishes with the mixture should be kept in a dark cool place. Use on a teaspoon 2-3 times a day for 25-30 minutes before meals. It is recommended for chronic and atonic disorders of the digestive canal, as well as for gastritis with low acidity. The course of treatment with these mixtures is 1-1.5 months, then you can take a break for 2-3 weeks. If necessary, the course of treatment is repeated.
Curative recipes with pollen