Baklava honey biscuit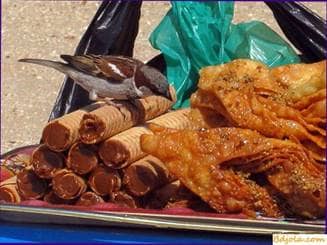 In the dishes, pour out the water with yeast dissolved in it, break the eggs there, mix thoroughly. With continuous stirring, add flour to the mixture and mix well again. Then pour the melted butter and knead the dough for 10-15 minutes, then put the dough in a warm place for 1 7 g hours. Simultaneously, prepare the filling (the kernels of walnuts to grind in a meat grinder and mix with sugar and pounded cardamom).
Ready to put the dough on the table and split in half. Each part is rolled into a layer thickness of 1.5-2 mm. One layer of dough is put on a greased baking sheet, and on top is a layer of filling 3 mm thick and covered with a second dough layer. Connect the edges of the dough and protect it.
The surface of the product should be smeared with egg yolk and cuts in the shape of a diamond. Bake baklava in a hot oven for 35-40 minutes. After 10 minutes from the time of planting baklava in the oven, take out the baking tray with the product, pour the dough along the cutting line with melted butter and put it back in the oven. After baking, cut the product along the line of the cuts with honey and cut into pieces. For the preparation of the test requires: flour – 750 g, melted butter-175 g, eggs – 2 pcs., Yeast -35 g, water-200 g; for the filling: walnuts – 500 g, sugar – 500, cardamom – 5 g; for lubricating the product: melted butter -110 g, honey-175 g (from Armenian cuisine).
Recipe 2
Cake with honey and sour cream.
1 cup sour cream, 1 teaspoon cinnamon, 1 cup raisins, 2 eggs, 1 tablespoon flour, 1/2 cup chopped walnuts, 1/4 teaspoon salt, 3/4 cup honey. Mix all the ingredients and put them in a round shape. Bake on high heat for 10 minutes, then over medium heat for 30 minutes, or until the mixture no longer sticks to the toothpick. We cut into diamonds.
Recipe 3
Cream cheese with carrots and honey.
100 g of honey, 200 g of cottage cheese, 600 g of carrot, 1/2 powder of vanilla sugar, a little lemon rind, 100 ml of milk, 120 g of apples, 1/2 orange. Put in the mixer milk, peeled grated carrots, peeled and grated apples; whisk until mashed. Add cottage cheese, lemon zest, honey and whisk again. Decorate with circles of orange.
Baklava honey biscuit