Halva with honey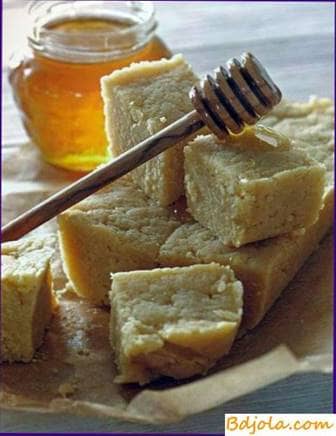 Sifted flour put on a frying pan, add melted butter, mix thoroughly and stirring, stir fry until a homogeneous friable mass of yellow. Then pour a lot of honey and fry for 5 minutes. Hot halva to shift to a plate, trim and cut into pieces of a square shape. A portion of halva is required: flour – 1 kg, melted butter – 400 g, honey – 400 g (from the Yugoslav cuisine).
Recipe 2
Halva with honey.
Stir in the flour (1 kg) with 400 g melted butter and, stirring, fry in a pan until a smooth, crumbly mass of yellow. Then pour a lot of 400 g of honey and fry for 5 minutes.
Hot halva to put on a plate, trim and cut into pieces.
Recipe 3
Badrock with honey.
Grilled corn and nut kernels are passed through a meat grinder, put in a porcelain cup, slightly greased with butter.
Melt honey in a saucepan, boil for 5-7 minutes and pour into a cup with the prepared mass, mix well, put on a dish and smooth with a layer of 1 cm, cut into diamonds.
200 g of fried corn, 200 g of kernels of nuts, 1/2 cup of honey, a teaspoon of butter.
Recipe 4
Halva made from honey and nuts.
Honey boil with continuous stirring, lower in it the crushed kernels of a walnut, half a glass of sugar and boil to a thick, viscous (almost dense) consistency. The resulting mass is put on a board moistened with water, and level the layer to a thickness of 1-1.5 cm. After cooling, the resulting layer is cut into rectangular slices or squares. Norm of products: honey -1 kg, sugar – 1/2 cup, walnut -1 kg. Instead of walnuts, you can use kernels of pistachios, peanuts, almonds. But they must be pre-fried (Tajik national sweetness).
Recipe 5
A halvo with honey.
Wet halva is made from honey, flour and butter. Sifted wheat flour in a cauldron with Russian oil or mutton fat with continuous stirring until a homogeneous, crumbly mass of light brown color is formed. Then add honey, water and cook for no more than 5 minutes.
Ready halva to put on a dish, sprinkle with chopped kernel of walnuts and cut into pieces of various shapes. To prepare 2 kg of halva, wheat flour is required: 6 cups, baked or lamb fat, 2 cups, honey 2 glasses, walnut kernels 1/2 cup, water 2 cups.
Halva with honey