Cake honeycomb "french&quot
Cake honeycomb "french&quot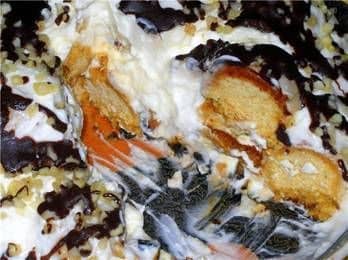 Dough: 4 eggs, 1 and 1/3 cup of sugar, 4 tablespoons of honey, 1/2 teaspoon of soda, extinguished with vinegar, 2.5 glasses of flour.
Cream: 300 g of butter, 3 yolks, 1 cup of powdered sugar, 2 cups of thick sour cream, 1 glass of crushed walnuts, 300 g of prunes.
Separate the yolks from the proteins, beat the whites, add sugar, honey oil, vinegar, soda and flour extinguished, carefully stir. The dough is divided into 3 parts. Form grease with vegetable oil, cover the bottom with parchment paper, grease with butter, sprinkle with flour. Dough dispense in shape with a damp hand. Bake in the oven with medium heat.
Prepare the cream: butter, yolks and powdered sugar pound loose mass, gradually add sour cream.
From steamed prunes remove the stone and finely cut it.
First and second coats lubricate with cream, thickly sprinkle with nuts and prunes. Top and sides of the cake too, cover with cream and decorate it with pieces of prunes and halves of walnuts.





(
1
votes, average:
5.00
out of 5)
Cake honeycomb "french&quot