Apple pie with honey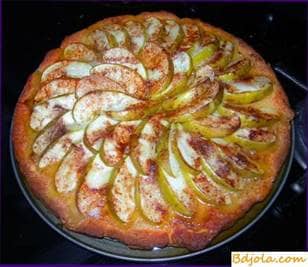 Apple to wash and bake in the oven. Wipe through a sieve, add water, flour, well knead. Put it in a greased form, sprinkle it with crushed breadcrumbs and bake in an oven or oven. After 25-30 minutes the apple is ready. When serving on the table, each portion should be watered with honey (use apples only of acidic or sweet and sour varieties).
Dough: a glass of honey, 500 g of apples, 1/2 cup of flour, a teaspoon of butter, 1/2 cup of water, a tablespoon of ground biscuits.
Recipe 2
Honey pie with apples.
Milk warm to 30 њ C, add salt, sugar, yeast and part of the flour to bring the mixture to the density of sour cream. When the leaven is suitable, add the heated fat, part of the honey, the rest of the flour and knead the dough. Give him a lift. Add hot honey, knead again and put on a prepared frying pan or leaf, let it come up. Place the peeled and cut into small pieces of apples from above. Lubricate with a mixture of eggs, honey and sour cream. You can also use for the filling of other fruits, berries, carrots, soft cheese with honey.
Dough: 50 g of honey, 25 g of sugar, 350 g of flour, a glass of milk, 75 g of fat, 250 g of sour cream, 1/2 egg, 25 g of yeast, salt after taste. Filling: 500 g of apples.





(
1
votes, average:
5.00
out of 5)
Apple pie with honey