Honey chocolate cookies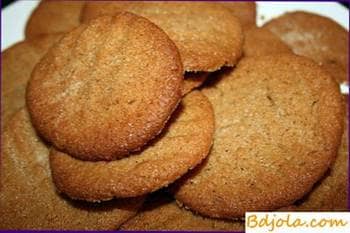 Melt on low heat honey with sugar powder, remove from the fire and cool a little. Add crushed nuts, grated zest of 1/2 lemon, cognac, vinegar-free soda and a quantity of flour to knead a steep dough.
Dough rolled to a 0.5 cm thick layer, put on oiled sheet and bake. In a warm form, cut the cookies into squares or other shapes and cover with white glaze. Withstand the biscuits until the glaze dries.
Dough: 250 g of honey, 250 g of powdered sugar, 120 g of nuts, 1/2 peel of lemon, 2 tablespoons of cognac, a teaspoon of soda (to extinguish).
White glaze: to bring down in a strong foam protein, gradually adding 1/2 cup of granulated sugar, juice of half a lemon. Blend the mixture to a density and shine.
Recipe 2
Honey cookies-balls.
Combine honey with sugar powder, heat, add vegetable oil, eggs, soda and a few grains of caraway in a mortar. After that, mix the mixture and gradually add flour as much as it takes to get a moderate density test. From the finished test, make the balls a little larger than the hazelnut, lay them on a baking tray and bake in an oven at a moderate temperature. The norm of products: honey – 100 g, powdered sugar – 1 / 2-3 / 4 cups, vegetable oil – 1 glass, eggs – 2 pcs., Soda – a teaspoon.
Recipe 3
Honey cookies "Domino".
Stir sugar and eggs to form a foamy body, add a little warmed honey, shabby chocolate and flour mixed with baking powder.
The finished dough is put on a sheet oiled with a layer of 0.5 cm and oven at medium temperature.
Cover the cake with sugar glaze and leave it to dry, then cut into a domino. Sprinkle the surface of cookies with rare chocolate.
Dough: 3 tablespoons of honey, 150 g of sugar, 2 eggs, 50 g of chocolate, 200 g of flour, 1/2 pack of baking powder.
Honey chocolate cookies