Cottage cheese casserole with honey sauce
Cottage cheese casserole with honey sauce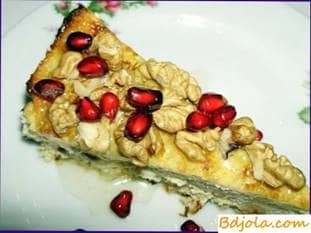 Recipe 1
In the soft cheese rubbed through a sieve add salt, vanillin, eggs, butter, mix everything. Add the grated carrot on a large grater, mix. Put the mixture on a greased form, bake in the oven for 10-12 minutes. To prepare the honey sauce for the casserole: rinse raisins with cold water, bring to a boil, cool and combine with honey.
300 g of fatty soft cheese, 2 carrots, 2 eggs, 2 tablespoons of raisins, a tablespoon of butter, 1/2 cup of sugar, salt, vanillin for taste.
Recipe 2
In the mashed soft cheese add the rare honey, sugar, eggs, semolina and mix thoroughly. Put the mass in a frying pan, greased with butter, and bake in the oven for 35-40 minutes.
500 g of soft cheese, 50 g of honey, 1/2 cup sugar, 2 eggs, 3-4 tablespoons of semolina, a tablespoon of butter to lubricate the frying pan.
Recipe 3
Cottage cheese with honey.
Egg yolks mix well with sugar and warmed honey, then combine this mass with softened butter and knead it until a loose, uniform mass forms, combine it with the grated cheese, serve with sour cream or whipped cream.
400 g of soft cheese, 2 tablespoons of sugar, 2 tablespoons of honey, 4 yolks, 3 tablespoons of butter, 3 tablespoons of sour cream or cream.





(
1
votes, average:
5.00
out of 5)
Cottage cheese casserole with honey sauce