Merenga nut with honey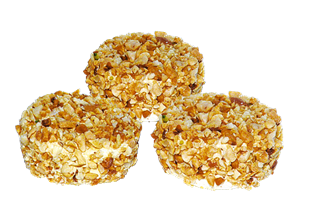 Mix the white flour with butter and honey, add the egg and 2 squirrels, chopped walnuts, grate the peel with one lemon and its juice, a spoonful of rum and a little soda. Dough well knead, roll out and cut a notch or a glass of round cakes. Bake until rosy. When the product cools, it can be smeared with chocolate glaze, and on top of each piece put half the core of the walnut. 140 g of honey is required: white flour -300 g, butter -100 g (from Hungarian cuisine).
Recipe 2
Mezhenga honey.
Wheat flour mix well with powdered sugar, add grated zest of one lemon, crushed cinnamon and cloves to taste, a little soda and honey – so much so that the dough was not very steep, but not liquid. From the dough roll out flat cakes with a thickness of 0.5 cm, cut out with a circular notch or a circle frame and bake on a greased baking sheet. When the product cools, smear or sprinkle with white sugar azure (from Hungarian cuisine).
Recipe 3
Mazurka with honey.
Grind egg yolks with sugar, add liquid honey (crystallized should be heated in a water bath), nuts, raisins, pour in flour, soda. Mix thoroughly, add whipped egg whites, mix gently and put the resulting mass on a small pan or frying pan, pre-lubricated with butter.
Bake in an oven at a temperature of 180-190 њ. Finished product in a hot form to cut into pieces. From above it can be sprinkled with powdered sugar. The norm of the products: honey – 50 g, sugar – 3/4 cup, walnuts (chopped) – 1 1/2 cups, raisins – 1 glass, eggs – 3 pcs., Flour – 1/2 cup, soda drinking-1 / 4 teaspoons, butter for lubricating-1 tablespoon.
Merenga nut with honey