Cake honey "bird's milk&quot
Cake honey "bird's milk&quot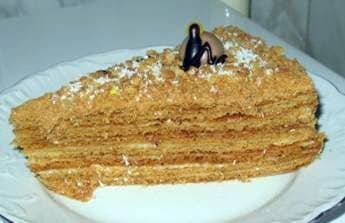 Dough: 2 tablespoons of honey, 4 tablespoons of milk, 3/4 cup sugar, 1 egg, 2.5 glasses of flour, a teaspoon of soda.
Cream: 1 cup of milk, 1 tablespoon of flour, 1/2 cup of sugar, 100 g of oil.
Glaze: 4 tablespoons of milk, 2 tablespoons of cocoa, I an incomplete glass of sugar.
Honey, milk, egg, sugar mix, put on a weak fire stir until the weight has gone white. After this, remove the pan from the fire, pour in the flour, soda, vinegar, and knead the soft dough. From the cooled dough, bake four cakes, bake in an oven with an average temperature. Form the baking dish with oil and sprinkle with flour.
Prepare the cream: from a glass of milk and 1 tablespoon of flour, brew the jelly and until it has cooled down whit the butter and sugar. Whisk, add a little bit of kissel until a lush white mass. With cream, grease three cakes, and the fourth cover with chocolate icing
To prepare the glaze milk, cocoa and sugar mix and cook over low heat for 5 minutes at the end of the cooking recommended in the glaze add 40-50 grams of butter to give it a shine.
Glaze and lipsticks should be used in a hot form, otherwise the surface of the product will be uneven and dull.





(
1
votes, average:
5.00
out of 5)
Cake honey "bird's milk&quot