Honey cake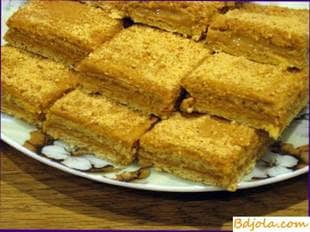 Combine the eggs with a slightly warmed butter, add salt, fill gradually with flour and mix everything until a homogeneous mass is formed (the dough should be of medium density). On the flour-poured table, swing the dough with a strand 4-5 cm thick, cut the same pieces 1-1.5 cm thick and immediately fry in a deep-fried (buttered lard with the addition of bacon) to a light straw color.
Put the honey in a saucepan and boil it on low heat until it thickens. When honey is boiled, put fried dough into it and gently mix it with a wooden spoon. Take out the ready-made cakes from the pan and put them in rows on a platter or a board greased.
Recipe 2
Honey cake for tea.
Warm a little honey and butter in a saucepan, cook an egg, vanilla sugar, rum and 4 tablespoons of flour mixed with semolina. Shake down until the foam forms and put the mixture on the board. Add the rest of the flour with semolina and baking powder. Knead the dough and let it stand for 2 hours in the cold. Roll out the dough with a layer of 1/2 cm, from which to cut out a different form of cake. Lubricate with egg, sprinkle with ground nuts and sugar and bake on fire.
Dough: 300 g of honey, 180 g of butter, 250 g of semolina, 1 egg, 1 yolk, 1 vanilla sugar powder, tablespoon of rum, 5 g of baking powder, 100 g of crushed nuts, 50 g of sugar.





(
1
votes, average:
5.00
out of 5)
Honey cake