Honey kvass from rye malt
Honey kvass from rye malt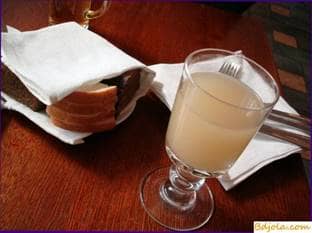 In the malt, add rye flour and knead in chilled water. The dough is well stirred, so that there are no lumps, transferred to enameled utensils and placed on a day in a well-heated oven or oven. Then bake the stove again and put dough into it for the second day. After the expiration of two days, the evaporated dough should be put in a quartz (wooden or enameled) and slowly and gradually pouring 12 liters of warm water, dilute it with continuous stirring.
Divorced must be covered and put in a warm place for 15-20 hours. From flour, yeast and a glass of water, prepare the leaven. The strewed must be carefully drained into a well-steamed and rinsed barrel or enameled fermentation dishes, at the same time pour the yeast yeast and honey (or white molasses) approached. Stir well, leave the wort to ferment in a warm room for 12-16 hours. When the wort ferments, the kvass must stand. Clarified kvass in bottles that are stored in a lying position on a glacier or in a cellar.
To prepare 8 liters of kvass is required: flour from rye malt – 3 kg; rye flour of simple grinding – 4 kg, honey-100 g, flour for starter – 200 g, liquid yeast – 3 tablespoons.





(
1
votes, average:
5.00
out of 5)
Honey kvass from rye malt