Honey in cosmetics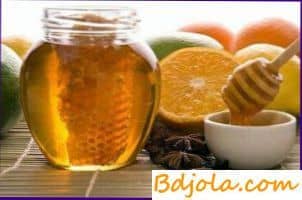 Honey with its unique biological activity has become an indispensable component of many cosmetic preparations manufactured by industry. It is used more and more in the production of cosmetic creams, masks, lipstick, shampoos, toilet soap, toothpaste, etc. Folk medicine offers many interesting recipes for the preparation of cosmetic masks, creams, lotions for facial skin, hands, hair growth, baths.
Cosmetic masks are made from natural honey with the addition of egg yolk, glycerin, lemon juice, fruits, berries, vegetables, medicinal plants, etc. All masks are applied to previously washed or cleansed by special means of the face skin, except the eyelids, which must be lubricated by any nutritious cream.
Apply the mask carefully: from the chin to the temples, from the upper lip and the back of the nose – to the ear, from the middle of the forehead – to the temples.
It is recommended to do the mask 1-2 times a week. Their action is aimed at improving the metabolism in the skin. The muscles of the face after this procedure become elastic, and the skin – fresh.
Women with increased hairiness, red face, increased sensitivity to honey, use honey masks should not be.
The duration of the mask is up to 20 min. Wash off her cotton-gauze swab dipped in warm water, without soap.
Before applying the mask, it is advisable to wipe the skin with boiled water or chamomile broth to expand the pores.
Honey masks and honey water well nourish the face, make it velvety, remove dryness, improve elasticity.
The value of honey for cosmetic creams offered by folk medicine, apart from phytohormonal and bioactive factors, consists primarily of its softening effect on the skin and properties by increasing the blood flow to each tissue, improving its nutrition. Creams should be applied to the face. It is not recommended to use honey creams for those with enlarged capillaries on their face.
The use of honey for washing and different baths very favorably affects the skin of the face and body. After such procedures, the skin becomes soft, velvety, honey well nourishes it.
Honey in cosmetics