Meat in a cast-iron stew with honey
Meat in a cast-iron stew with honey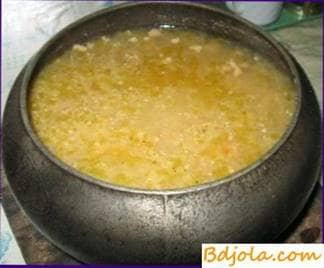 For four servings, 1 kg of low-fat veal (or young mutton), 250 g of mushrooms, 2 tablespoons of honey, 4 onions, garlic cloves, 2 carrots, thyme (thyme), bay leaf, celery sprig, parsley, pepper, salt, 100 g of butter.
Cut the meat into pieces and season and fry in oil until a ruddy crust is formed. Separately, in a closed frying pan, fry, stirring, finely chopped onions and grated carrots. Roasted pieces of meat put in a pot, add roasted onion and carrots, a little water (you can have some white dry wine), finely chopped garlic, pepper, spices and put the stew on low heat, closing the cast iron lid. Stew for about an hour, if necessary, adding a little liquid.
Simultaneously, prepare a white sauce by frying a tablespoon of flour with a tablespoon of oil for 10 minutes. In addition, fry in thinly chopped mushrooms.
When the meat is almost ready, remove the cast iron from the fire, add the sauce, mushrooms and honey and again put on a weak fire for at least 30 minutes. Before serving, decorate the meat with parsley and apples. Honey and spices add to taste, they will give meat piquancy and mystery.





(
1
votes, average:
5.00
out of 5)
Meat in a cast-iron stew with honey