Chicken thighs with honey
Chicken thighs with honey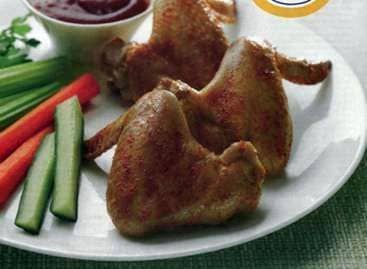 Mix the soy sauce and honey, add curry, lemon juice and mix. Put the thighs in the marinade, put in the refrigerator for 3-4 hours. Then bis-fry on both sides until golden brown. Add the sauce in which marinaded pork, and fry under the lid for another 15-20 minutes.
This chicken recipe – Indian and Chinese cuisine. Plum wine is ideal for it.
500 g chicken thighs, 3 tbsp. l. honey, 6-7 tbsp. l. soy sauce, 1 tsp. curry, 2-3 tbsp. l. lemon juice.
Chicken hearts with honey
Necessary products: 1 kg of chicken hearts; 300 g of Bulgarian sweet pepper; 20 olives
For marinade: 4 tbsp. l. vegetable oil; 200 g of soy sauce; 2 tbsp. l. honey; pepper
Cooking method. Serums to wash, pour soy marinade, prepared from the proposed ingredients. Leave for 3-4 hours.
String hearts on wooden skewers alternately with pepper and olives. Fry in a pan, periodically pouring marinade. Go to the table to serve shashlik on lettuce leaves.





(
1
votes, average:
5.00
out of 5)
Chicken thighs with honey