Drink of honey, carrot and lemon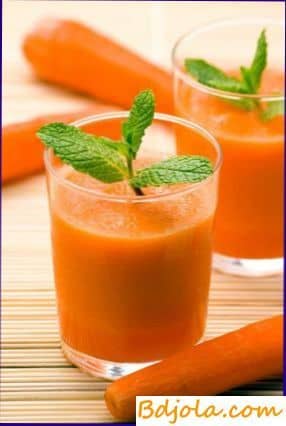 Carrots thoroughly brush and grate on a fine grater, squeeze the juice, stir with chilled boiled water, season to taste with salt, lemon juice and honey. To the finished drink you can add finely chopped greens of dill. Norm of products: honey – 2 tablespoons, carrots – 1 kg, water – 1 1/2 glasses, lemon juice, salt, dill greens – to taste (from Polish cuisine).
Recipe 2
Drink a honey ball.
In Central Asia, so called honey. From it, prepare a delicious honey drink. In the boiling water put ginger, cinnamon and cloves, black pepper peas, bay leaf and bring to a boil. Then remove from the plate, close the lid tightly and insist 5-10 min. After this, add honey, mix thoroughly and drain. The drink is served hot. To get a serving (glass) of the drink, you need: honey – 25 g, black pepper – 0,05, bay leaf -0,05, ginger -1, cinnamon – 5, cloves – 1 g.
Recipe 3
Cocktail with cream and honey.
Fill a quarter of the glass finely chopped with crystallized ice, pour honey, pour brandy and add fresh cream. All components should be shaken thoroughly, after which the product is ready for use. Required: honey – 2 tablespoons, cognac – 2 cognac glasses, cream – 4 tablespoons (from Hungarian cuisine).
Recipe 4
Lemon honey.
Honey and hops boil with 12 liters of water. In the chilled broth, add the honey must. Then add yeast, put slices of lemon, soak in the cellar for 2-3 weeks. Hold honey and pour into bottles. Keep bottled bottles in the cold before use. Norm of products: honey – 2 kg, lemons – 6-8 pieces, hops – 100 g, fish glue – 3, yeast – 100 g.
Drink of honey, carrot and lemon