A set of equipment for collecting bee venom
A set of equipment for collecting bee venom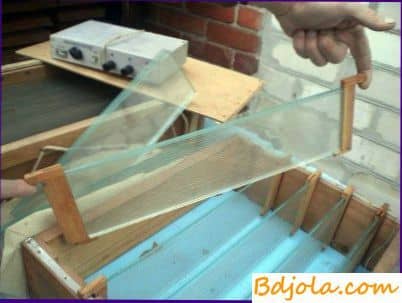 Catching cassettes are installed on top of the nest of a bee family, selection of the poison is carried out within 30-45 minutes, its termination is determined by the device installed on the panel of the pulsating device.
The total weight of equipment is 35 kg. The kit includes:
Pulsating device with adjustable amplitude of output voltage, duration and pause of output pulses (supply voltage 220 V, 50 Hz or battery 12 V – 1 pc.).
Cassettes 300X500 mm for collecting poison with two quick-detachable working glasses – 10 pcs.
Screening venom – 1 pc.
Knife scraper for removing poison from the glass – 1 pc.
Wadded gauze dressing – 1 pc.
Extension cable (10 m) – 1 pc.
Extension cable (15 m) – 1 pc.
Extension piece (3,5-5 m) – 3 pcs.
Cable with connector ыт-20 – 2 pcs.
Fuses – 2 pcs.
Instruction manual -1 copies.
Instructions for collection and storage of bee venom – 1 specimen.
The warranty period of the pulsating device is 2 years.





(
1
votes, average:
5.00
out of 5)
A set of equipment for collecting bee venom