Simple well pump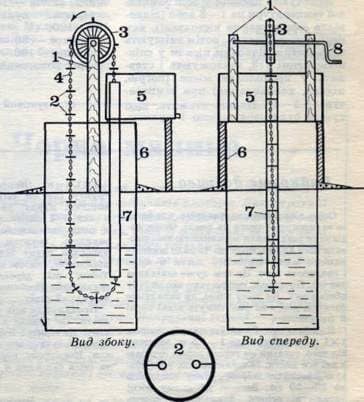 1 – racks; 2 – cuffs; 3 – wheel: 4 – chain; 6 – frame; 7 – pipe; 8 – the drive handle.
I am sending a draft and a description of the simplest and reliable pump that almost everyone can produce, although once in a lifetime the hammer was in its hands.
To do this, take an old bicycle wheel, a pipe with a diameter of 50-60 mm, a chain (on which a bull-calf is kept, but of sufficient length), an unnecessary car camera, a tank for 1-3 cubic meters of water and two wooden bars or metal angles or a channel for racks.
The design of the pump is extremely simple. This can be seen from the figure. The tank is attached to the frame of the well, drilled a hole in its bottom behind the outside diameter of the pipe. The upper part of the pipe is cleaned from the burrs, and the bottom is expanded. Pipe insert into the hole and brew or fix in another way (using clamps or cement mortar). The pipe with the chain should be half a meter below the water level of the well. The lower part of it is not fixed. She keeps well and so. On both sides of the well we put in the racks. On them we fix a rigid wheel on the axis of the manual drive. You can optionally take the rear bicycle wheel along with the carriage and an asterisk and, a bit to think, to make a pedal drive (as in a bicycle).
Cutting is cut from the camera cuff. We fix them on the chain every 0.5 m. That's all. The pump is ready.





(
1
votes, average:
5.00
out of 5)
Simple well pump