The construction of the nomadic pavilion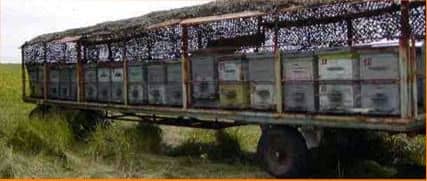 Frame (bearing structure). If the pavilion is more than 4 m, then it is made of steel or wood. After loading, the nomadic pavilion should not protrude from the body of the car, therefore along the length it should be slightly less or equal to it.
The walls . Most often made of wood, with a heater between the walls.
Arrangement of hives. A nomadic pavilion is designed for a minimum of 30 to 40 families, which are located in 1 or 2 tiers on both sides. Both conventional and special pavilion hives can be installed.
The corridor in the pavilion should be wide, as it is intended for the beekeeper, so that he can freely take care of the bee colonies. The minimum width is 1,1 – 1,2 m.
Room for the beekeeper . It is not equipped in all pavilions. It is necessary for living and pumping honey. The room can be equipped in the front or back.
Lighting. Light inside the nomadic pavilion should be a lot. Where to place it is determined by the number of placed hives. If they are in two sides in one tier, then the lighting is done in the roof, or in the side walls. If the hives are located one above the other in 2 tiers, then they arrange lighting through the windows in the roof.
Roof. The most common is the arch with a slope, in the middle of which there are from 1 to 3 roof locks. You can make it horizontal, but it must be taken into account that through such a roof the probability of penetration into the sediments is high. As materials used, galvanized steel sheets, or aluminum sheets, are the most durable and suitable.
Gutters. Fasten them from the long sides of the roof, but it is necessary that they are designed in such a way that they do not protrude from the sides, front or back. Otherwise, there is a high probability that they will get caught and hurt during movement
The door . The most convenient is its device in the rear wall, it is usually attached to a sturdy, light and safe staircase.
Chassis. Must be strong, the wheel track is wide, spring suspension and double tires.
The main advantage of the nomadic pavilion is the convenience when traveling. It is convenient and comfortable for the beekeeper: it is not cold, not hot, dry and clean. When pumping honey, bees do not attack.
When using the pavilion, the productivity is significantly increased, since bees and the beekeeper do not interfere with each other. In the pavilions, bees are much more comfortable to winter, which positively affects during the spring development.
The construction of the nomadic pavilion