A bit of a bee ant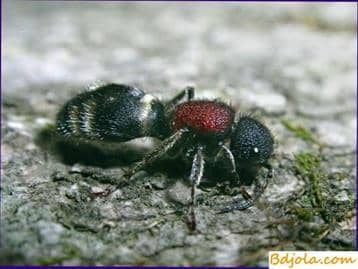 European nondescript (mutilla, bee ant, Mutilla. Europaea) is an insect related to ants, 12-14 mm in length. A female without wings, the breast is red, the abdomen is ovate, dark blue, belted with yellow bands, has a large long stinger, which is used both for protection and as an ovipositor. He puts eggs in the pupae of insects. The mandibles are small, but she stings the bees stingily, climbing into the beehive in the evening or at night, eats them with honey; she can stay there for several days.
From the bees lurks in the honeycomb cell. Sometimes it destroys a lot of bees. Males have wings. They eat nectar flowers. There is also an excellent mute (Mutilla differens), which has a spotted pattern, transverse bands on the abdomen, formed by light hairs. This nemotka has a yellowish edge of the legs and antennae. Its head is dark red.
Control measures. In order for the unwitting to not penetrate into the hive, the hive legs are smeared with the autogram.





(
1
votes, average:
5.00
out of 5)
A bit of a bee ant