Stand trolley for movement of hives
Stand trolley for movement of hives

My hives are constantly on special pedestals, which move through metal pipes in diameter in half an inch or an inch.
For this purpose, the wheels have grooves corresponding to the diameter of the pipes. When loading and unloading beehives during travel, I use a ladder made from the same pipes.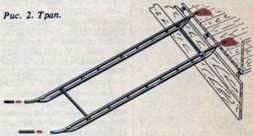 To the trolley-stand with a hive smoothly rolled off the ladder, its ends slightly bend and attach pipes to them – "rails". The connection is provided by studs inserted on one side of each pipe.





(
1
votes, average:
5.00
out of 5)
Stand trolley for movement of hives