How to make a simple shish kebab
How to make a simple shish kebab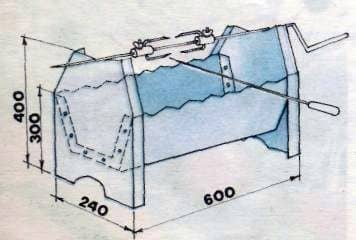 Metal barbecue simple design can be installed on the terrace of the house or in the favorite corner of the garden. Its design makes it possible to cook meat in a variety of ways. In addition to traditional skewers on skewers, you can grill meat on a grid, and a bird on a spit.
Shish kebab consists of a simple brazier, skewers, a grid and spit. The oven is made of tin 1-1.5 mm thick. Individual parts are bent and joined by welding, rivets or bolts. If possible, the prepared brazier can be painted with fireproof varnish.
Skewers 500-550 mm in length can be purchased in the store or made of steel with a diameter of 2-3 mm or sheet metal. The tips of the skewers are sharpened. For convenience skewers can have wooden handles.
The grid is made of a metal mesh stretched along the contour to the frame from the metal strip. You can also weld a grid of thin steel rods.
The spit is bent out of a steel rod with a diameter of 8 mm and sharpened, and the locking forks are made of 4 mm diameter rods and fixed on the spit with screws.
Fry meat should not be on the flame, but over the heat that remains after the burning of firewood. The best firewood from oak, apple or pear. They give the meat a special flavor.





(
1
votes, average:
5.00
out of 5)
How to make a simple shish kebab