Gurian pilaf with honey sauce
Gurian pilaf with honey sauce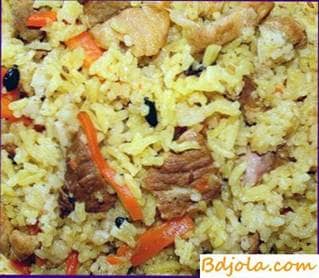 Rinse the rice in salted boiling water and cook until the rice becomes soft, and the inside will still retain some elasticity. Discard the sieve and cool with cold water. In a deep saucepan melt some of the fat, put the boiled rice, pour the remainder of the fat, close the lid and simmer 40-45 min. To rice does not stick to the bottom of the pan, put on the bottom of a very thin crust of fresh dough, cooked as for noodles. This biscuit can be served on the table with plov. Before serving, pour the pilaf with sweet gravy.
To make it, mix the honey with the same amount of hot water, add the rinsed raisins and all together boil for 10 minutes.
2 cups of rice, 150 grams of raisins, 1/2 cup melted butter, 150 grams of honey.





(
1
votes, average:
5.00
out of 5)
Gurian pilaf with honey sauce