Tomato juice with honey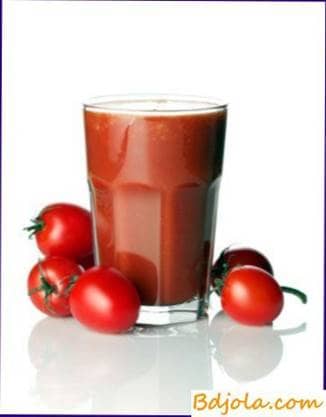 For the latest data, tomato juice reduces arterial and intraocular pressure, so it is recommended for hypertension and glaucoma. High content of iron, the presence of folic acid, some trace elements makes it possible to use it in feeding patients to anemia. In contrast to former erroneous statements, it turned out that tomatoes are poor in purines and oxalic acid, so they can be included in the diet with polyarthritis, gout, oxalaturia, urate acid diathesis.
But with cholelithiasis, their use should be limited, since organic acids, which are contained in tomatoes, can cause a spasm of gallbladder muscles and increased pain. The use of canned tomato juice for a long time in large quantities can cause the formation of stones in the kidneys and bladder, as when preserving the acids that are contained in tomatoes, go into an inorganic state and become harmful to the body.
For the contents of ascorbic acid (vitamin C), tomato juice is not inferior to oranges and lemons.
Drink with honey: one glass with a tablespoon of honey 2-3 times a day for 30 minutes before meals.





(
1
votes, average:
5.00
out of 5)
Tomato juice with honey