The swarm on a prievo in non-flying weather
The swarm on a prievo in non-flying weather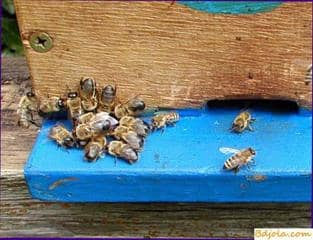 Many beekeepers are interested in how long a bee swarm can be. I'll tell you about one of my practices. In the beginning of July in the evening a shepherd came to me and informed me that about ten kilometers from my apiary a swarm was brought to the bush. The day was overcast, there was a drizzle of fine rain. Having come to the conclusion that in this weather the swarm should not fly away, he decided to wait until morning. When it was light, I took everything I needed to remove the swarm, and we set off with the shepherd. Roy was there. Bees with a large bunch hung on the bushes of elderberry about a meter from the ground. I, putting on the face mesh and armlets, sprinkled a swarm of Rosinka. Then, after substituting the rover, he shook the bulk of the bees into it.
The rest collected with a scraper and goose wing. The bees behaved peacefully, a uniform hum was heard. When I got home, the weather was still cloudy.
Keep the bees in roevne there was no sense. I prepared a beehive and poured out the bees from above. They immediately went into the streets.
This case showed me that in bad weather the swarm can be in a safe place, waiting for bad weather, for several days depending on the number of bees and while the feed is enough.





(
1
votes, average:
5.00
out of 5)
The swarm on a prievo in non-flying weather