Rat-catcher with their own hands
Rat-catcher with their own hands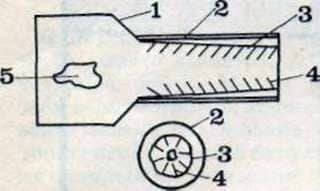 1 – the chamber; 2 – pipe; 3 – canvas sleeve; 4 – wire, 5 – bait.
I want to offer you a simple and fairly effective rat-trap. It is simple: we insert a canvas sleeve into a pipe with a diameter of 50 mm, in which we fasten several rows of a steel spring wire 0.5-1 mm in diameter with sharpened ends (as shown in the figure). One end of the pipe is attached to the baited chamber (best of all – fried meat with garlic and onions) made from tin.
The rat smells of the bait through the pipe to the camera and stays there. The needle is not given back to her.





(
1
votes, average:
5.00
out of 5)
Rat-catcher with their own hands