Once again on the ventilation of hives
Once again on the ventilation of hives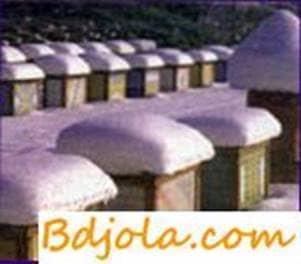 The bees are hibernating in the wild. In order to improve the ventilation of the hive, in autumn I remove one of the last frame from the nest and in the corners at the back wall I place the exhaust pipes that I have made, which run from the bottom to the overburden, bypassing the upper insulation.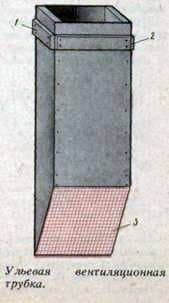 Four-five holes with a diameter of 30 mm are drilled at the ends of the roof for ventilation of the overburden. Pipes do so. I take two racks of section 10X20 mm and nail to them on both sides of a strip of plywood with a width of 70 mm. The length of the tube depends on the height of the hive.
To prevent the tube from touching the frame and the wall of the hive, I nail two slats 2 3 mm thick to the upper part of it, as well as 1 mm 10 mm slats, for the plate that closes the space formed from the removed frame, the bottom end of the tube 3 with the bevel and I close it with a grid so that the mouse does not get there. I open the lower tapes on average by 15 cm. If the family hibernates in two buildings, I also open the upper flap of the lower shell. With such an organization of ventilation in the nest there is no dampness, little podromora. Families and even layers are well wintered under the snow.





(
1
votes, average:
5.00
out of 5)
Once again on the ventilation of hives