Measured masses of honey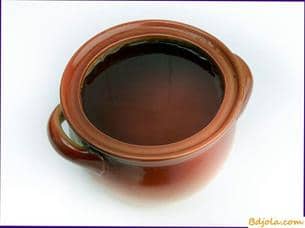 Honey is a high-energy product. It does not stay long in the stomach, but quickly penetrates into the intestines and is absorbed by the lymphatic system, and from there into the blood and tissues. This property of honey is used by athletes for rapid recovery of muscle energy in breaks between competitions. Even the ancient Greeks considered honey a "drink of youth" and gave them athletes during the Olympic Games.
In children who consume 2 teaspoons of honey every day, a noticeable increase in weight and an increase in hemoglobin in the blood. The first information about the use of honey in baby food dated around 900 BC. Then the children were given a mixture of milk, honey and melted butter. It was accepted as a rule to inject a few drops of honey near the mouth of a newborn before applying it to the mother's breast.
High energy value of honey makes it possible to increase the energy value of a small amount of food, which is very important for seriously ill people, prematurely born and dystrophic children.
Honey facilitates the digestion of proteins and fats and the oxidation of milk casein into small flakes, so that the food takes the infant out of the stomach in the shortest possible time. So, honey is an excellent antidispeptogenic factor.
Honey has long been a part of many recipes from different nations of the world. It is used mainly when baking flour products and for making sweets.
Adding honey to the dough when baking confectionery and making drinks significantly improves their taste and nutritional value.
Before proceeding to the recipes for preparing products with honey, let us give some advice.
1. For sweetening yeast dough, honey should be added only at the end of fermentation, so that the smell and taste of honey remain.
2. When making honey biscuits in baking soda, it is desirable to add a few drops of citric acid
or vinegar.
3. Honey is less sweet than sugar, so it should be added to food more or add sugar, in addition to honey.
4. When baking confectionery products, the proper temperatures should be observed: tempered (130-180 њ C), medium (180-220 њ C) or high (220-280 њ C), depending on the dough, shape and size of the product, which it is baked. For example, for small items you need a higher temperature, and for large and thick – the lowest, because they are longer baked.
If there is no thermometer at hand, you can determine the temperature in a heated oven or oven by the state of the flour. To do this, a pinch of flour should be thrown into a preheated oven. If it immediately becomes charred, then the temperature is 220- 280 њ C, and if it turns yellow, and after about 30 seconds it darkens, then the temperature is 220-280 њ C. When the flour gradually turns yellow, then the oven has heated to 180-200 њ C.
There will be a possibility for housewives and the table below of the mass and measures of some products.
Measure

Weight, g

Measure

Weight, g

Honey

Rice

1 liter milk bottle

1400

Glass

230

Bank 800 ml

1000

Full tablespoon

FROM

Bank 400 ml Glass 150 ml

520 180

Manna groats

Full tablespoon

45

Glass

200

Full teaspoonful

12

Full tablespoon

25

Wheat flour

Full teaspoonful

15

Ordinary glass for

160

Breadcrumbs

Water

Glass

125

Incomplete tablespoon

25

Full tablespoon

15

Granulated sugar

Salt

Glass

200

Glass

325

Full tablespoon

FROM

Full tablespoon

35

Tea spoon

10

Full teaspoonful

10
Measure

Weight, g

Measure

Weight, g

Butter is melted

Milk powder

Glass Tablespoon

245 20

Glass Tablespoon

12015-20

Tea spoon

5

Teaspoon Sour cream

5

Milk

Glass

250

Glass

250

Tablespoon

25

Tablespoon

20

Tea spoon

10
Measured masses of honey