Fruit, canned in honey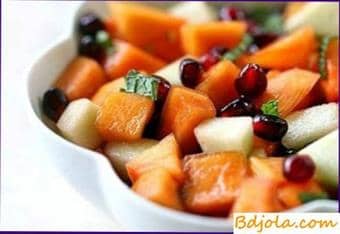 For preserving fruit, honey is used. Honey (2 kg) stir in milk (100 g), mixed with whipped into strong foam protein. The mixture is put on fire and boiled, removing the foam. From the honey cooked in this way, boil the syrup and still pour the fruit in the cans. Further the process goes the same as with conventional canning in sugar. Fruits can also be preserved in honey syrup.
Syrup of honey is prepared in the following way: 1 liter of honey is diluted in 1 liter of water. The solution must be boiled and filled with fruit prepared for canning. You can preserve the fruit in honey and without processing the cans of steam, but in this case the fruit should be poured with a thicker syrup of honey (1 kg of honey per 700 g of water). Banks after filling with syrup should immediately cover with cellophane and tightly tie with twine. On banks it is necessary to specify the date and year of canning.
Recipe 2
Black currant with honey.
Black currant contains provitamin A (carotene), B1 (aneurine), vitamin P (rutin), vitamin C2 (antipneumonic factor). Such a high saturation with vitamins, and especially vitamin C, allows you to strongly recommend the use of black currant not only in summer, but also in winter.
Peeled from twigs and washed berries pound with a wooden pestle and pour honey, mix thoroughly. The resulting mass should be put in glass jars, covered with waxed or waxed paper, carefully tied and stored in a cool place. It is even better to sterilize the honey-blackcurrant mixture (puree) and store in glass jars with metal covers. One kilogram of honey is taken 1 kg of black currant.
Fruit, canned in honey