Flashlight for work in the dark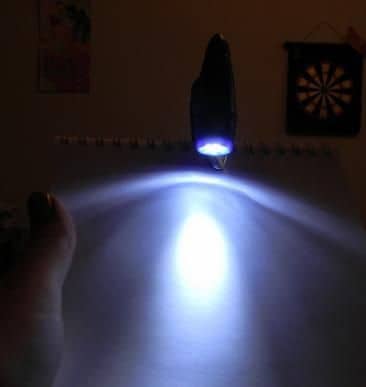 Electricians often have to work in poor visibility. It's good, if there is a partner nearby, which will light up the workplace, and the instrument will give. If there is no such partner nearby, the electric torch will help the electrician. It is simple to manufacture, its base is a conventional flashlight, which is sold in electrical stores. Make our "station wagon" so.

Universal lantern: 1 – body; 2 – framing; 3 – the switch; 4 – the magnet; 5 – terminal socket. The circuit of an electric chain of a lantern for its use as a probe and check of integrity of chains: 1 – a light source; 2 – the switch; 3 – power supply; 4 – terminal socket.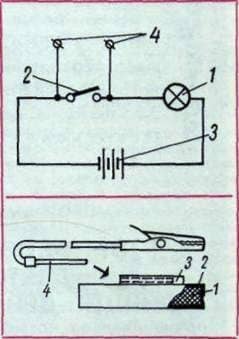 Device for earthing: 1 – magnet; 2 – copper foil; 3 – socket terminal; 4 – feeler gauge. To the back of the lamp body, permanent magnets are glued in such a way that they keep the flashlight on the metal surface – the door of the electrical cabinet, the motor housing, the machine bed, etc. It is most convenient to mount the lamp to the cabinet door – its turn adjusts the direction of the light flux. Our lantern is also suitable as a probe when wires are routed and their integrity is determined. For this, two terminal jacks are fixed on the frame of the flashlight, where you can connect the probes. Two wires are soldered to the sockets inside the lantern – their second ends are connected by soldering respectively to the contacts of the switch (shunt the switch). It is very convenient to check the integrity of electrical circuits in dark places with the help of a flashlight. This can be done, for example, so.
The lantern is attached to the metal surface, illuminating the spot of the continuity. Styli are applied to a conductor, the integrity of which is checked. The lantern is turned off: if it goes out, then the conductor is broken, but if it continues to shine, the conductor is intact. A simple device will save time and nerves when wires are wired. Make it like this. In the previously irradiated copper foil, a permanent magnet is "wrapped". Solder the joints and solder the terminal socket to connect the probe – its end is equipped with a crocodile clip. The magnet is attached to a grounded metal surface, and the clamp is connected to the conductors of the cable.
The wire is made with a probe – one of its probes is similarly grounded, while the second is determined by the conductors of the cable.
Flashlight for work in the dark