Drying cabinets for berries and fruits
July 5, 2018 best-kapitan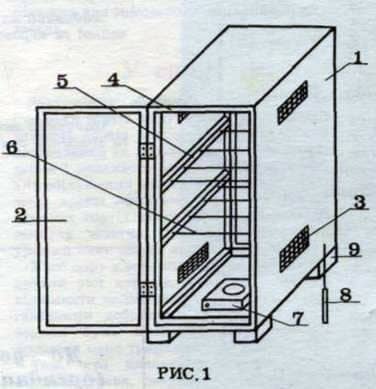 Fruits, berries, mushrooms can be dried in drying cabinets. Dried plums, apricots, and pears are delicious and mouth-watering in appearance.
Drying cabinets should be placed in an unsealed area. The cabinet is made of sheet metal. The frame is made of rails or metal corners. From the outside, the cabinet is painted with black paint. At the top and bottom of the cabinets, the ventilation holes 3 are collected with a thick mesh. It should also provide a damper to control the flow of air.
Door 2 must be closed tightly, so that flies, wasps and other insects can not enter the cupboard.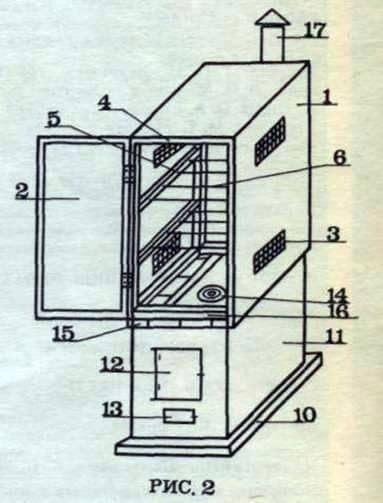 1 – cabinet; 2 – cabinet door; 3 – ventilation; 4 – frame; 5 – lateral bars; 6 – trims; 7 – electric stove; 8 – grounding; 9 – stand under the cabinet; 10 – foundation; 11 – the furnace; 12 –

furnace; 13 – ash-pit; 14 – a plate; 15 – row of bricks; 16 – stop bars; 17 – a chimney.

Inside the cabinet to side blocks 5 fasten the straps 6 to place on them frames with nets or frames with packed nails on each side to which threads are attached with cut on them cut apples, pears, mushrooms.

In cloudy and rainy weather, and also at night for intensive drying, the electric stove 7 is put on the bottom of the cabinet, preferably with a three – or four-fold power regulator (in this case the cabinet must be securely grounded and the wiring performed in compliance with existing safety rules).

Those who have a cooking oven in the yard can use it to dry fruit. To do this, you need to make a cabinet of the same construction as the previous one. But it can also be made of boards.

At the top of the slab you need to put a row of bricks 1 5, on which the cabinet will be supported by supporting bars 16. You can also put several bricks on the plate 14 to increase the heat capacity.






Вши у пчел.
Drying cabinets for berries and fruits