Bees in May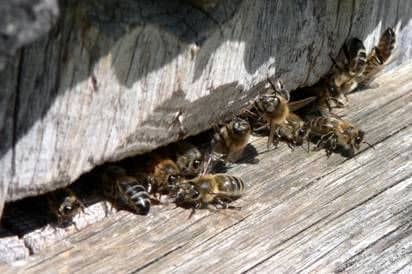 Increase the power of the family
The main task for the beekeeper in May is to increase the strength of the family, regardless of the weather conditions and honey collection. The bees that came out of winter are completely replaced by young, energetic ones. With poor honey, the family very quickly reduces the supply of feed. If the bribes are good, then strong mother families bring out young queens, which are used to create cores and layers.
Care should be taken to ensure that the uterus constantly had loose honeycombs for laying eggs. In May, old queens are replaced for young and prolific. At this time, the apiary is planted for sowing of winter burdock, sainfoin, in plantations of white acacia, they create layers and packages for themselves and for customers. With the help of special devices collect pollen. Keep it dried or canned (drenched in honey).
When superstructures are placed, an artificial wax is put up for rebuilding, increasing the stock of honeycombs for the period of the main honey collection. It should be carried out anti-virus treatment of families. Voskonstruktsionnye framework is used to combat the varroa mite and the extraction of wax. It is watched that water is poured in the watermelons (5 g of kitchen salt per 1 liter of water).
The rejected honeycomb is re-heated to wax.





(
1
votes, average:
5.00
out of 5)
Bees in May