Swarm transplantation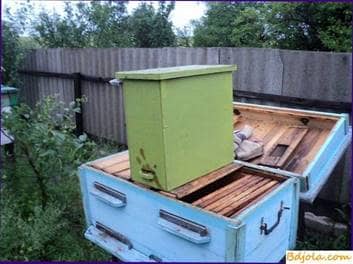 After the bee family grows stronger, will renew the nest, fill the honeycomb with brood, honey and perga, it directs its worries to the creation of a new family. On the ninth day after the laying of eggs, the first swarm emerges into the queen cells.
Spinning for a while over the hives, insects in small groups begin to sit on the nearest trees or bushes. I quickly remove the swarm, so that it does not fly away, and weigh. By the evening I am preparing a beehive for transplanting bees. I clean it inside and out, disinfect if it was previously used, put it on pegs or on a stand and form a nest. I count in such a way that for 1 kg of bees there were four frames in the nest with honeycomb and honeycomb alternately. At the edges I put one frame with honey and perga. In order that the swarm does not fly off the new hive, in the middle of the nest I place one or two frames with an open brood from a healthy family.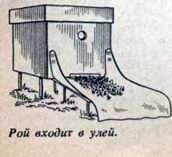 If there is no such possibility, I close the strip with a strip of the dividing grid for one or two days so that the uterus can not leave the hive. I change the swarm into a hive. At the end of the day, one and a half to two hours before dusk, I put a flat roof of a beehive or a wide board to the tap hole, which I cover with plastic wrap. I wrap the film around the edges and attach it to the front wall of the hive with the buttons so that the bees do not crawl under the tray or the board.
Earlier, when I did not do this, insects accumulated under the bottom, under the landing board, on the ground, in the grass – many of them were lost. I pour out the bees from the digs before they go, they gradually enter the hive. To speed up the transplant swarm I use a smoke. This can be done with the help of a film; Take her by the ends and, gently shaking, direct the bees toward the tap. When transplanting swarms with a uterus in this way, there usually does not happen. The bees are completely preserved.
Swarm transplantation