Sterilizer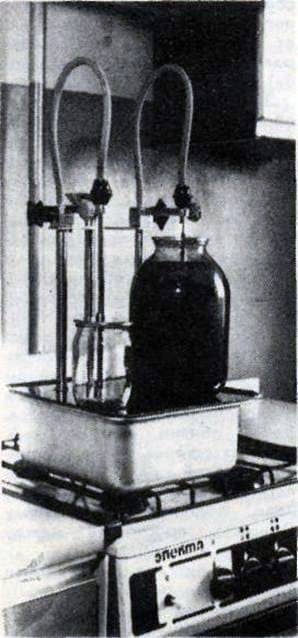 Downtime and a cheap sterilizer will greatly facilitate home canning. Having read in the note "Canned in a human way", I hasten to please our hostesses – we will be greatly facilitated by the home canning device, invented by an engineer. This is a sterilizer (called "Mriya") for glass jars with a capacity of 0.5 to 3 liters and for the fruit to be poured there. Working with a sterilizer is a pleasure.
On the pallet covering the rectangular tray with water, we put two clean cans, we lower in each (up to a bottom) sterilizing tubes soldered in special covers, and we close cans (see a photo). We light the gas and watch: when the water in the tray starts boiling, we begin to adjust the steam supply to one of the cans.
After sterilizing it properly, we will close the valve, fill the jar with washed fruit, put the lid on the place and start steam again for 2-3 minutes, no less: good fruit processing is a guarantee that you will have an appetizing table all winter long. After tightening the valve, raise the lid of the jar with the tube, turn the tripod aside and remove the jar from the pallet. Now we will repeat everything with the second jar, and in the first we pour boiling syrup and roll, as usual. We checked: the sterilizer "Mriya" will accelerate every 20 times the time for home canning.
The first pilot batch of such sterilizers has already been released, their approximate price is 25 rubles. In my opinion, it is inexpensive, however, maybe someone more rationally organizes the mass production of "Mriya", and the cost of the sterilizer will decrease. The documentation and consultations of the SKB Association "Temp" will help. But hurry, in order to give the Soviet housewives the opportunity to preserve them by the people by the fall. The inventor argues that "Mriya" saves not only time, but also vitamins.
Sterilizer