How to cook apple cider vinegar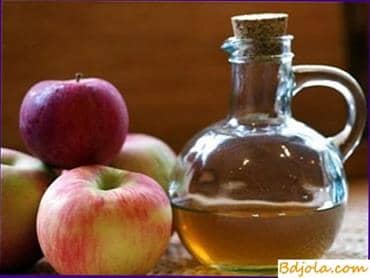 Every beekeeper knows that the sugar syrup has a neutral reaction, and when the bees carry it to the honeycomb, it already gets acidic. Therefore, for normal and healthy life of the insect organism, the food must be acidic.
The beekeeper can make it easier for the family to process the syrup by adding 3-4 g of acetic acid to 10 kg of sugar. "Consuming this food, the bees winter better, the amount of winter detritus decreases, in spring brood more by 9.5% compared to the families of bees that did not receive such a beverage in the food." Instead of table vinegar, it is better than apple vinegar.
The proverb is known – eat an apple a day and you will not need to call a doctor. Especially a lot in apple cider vinegar – an indispensable element of nutrition, which strengthens the body of bees and provides resistance to low temperatures.
Apple cider vinegar can be cooked at home by every beekeeper.
I propose my own method. Apples are washed, rotten or wormy parts are removed, then kneaded or rubbed on a large grater using a core. You can also use the peel, as well as the remains of apples after cooking jam, compotes or juices from them.
This damp apple (gruel is put in a suitable vessel. Add lukewarm, pre-boiled water (0.5 liters of water per 0.4 kg of apple pulp) .For each liter of water add 100 grams of honey or sugar, and (to accelerate the acetic acid fermentation ) for 10 g of baker's yeast and 20 g of dry black bread.
The vessel with this mixture is stored necessarily open (aerobic fermentation) in the room at a temperature of 20-30 њ C. It can be made of glass (cans), wood (kegs) or enameled and must be in the dark, since the sun's rays prevent fermentation. The vessel is kept warm for ten days, stirring the apple gruel with a wooden spoon two or three times a day, then it is transferred to a gauze bag and squeezed. Determine the mass of the juice obtained and pour into a vessel with a wide neck. Add, stirring, to each liter of 50-100 grams of honey or sugar. The jar is covered with gauze and kept warm.
Fermentation is over when the liquid stops foaming and becomes transparent. Apple cider vinegar is ready in 40-60 days. Then it is poured into a bottle by a hose, filtering through gauze. Bottles densely plug up stoppers, clog with wax and store in a cool place.
Prepared in this way, vinegar, I add five years to one tablespoon to one liter of syrup (1 liter of water: 1.5 kg of sugar). Observations showed that bees process and seal such food much faster, surprisingly little podmora.
How to cook apple cider vinegar