Collection of pollen collectors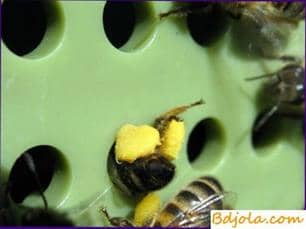 Depending on the design, the pollen collectors are placed either from the outside before the tap, or inside the hive on the way to return the bees to the nest. To get into your hive, the bee passes through special holes in the lattice. At this point, the pollen with pollen gets into the box suspended under the grate. Pollen-collectors collect 20-50% of beets brought by bees. This does not damage the livelihood of bees.
Collect the updates should be at the end of the day, after the end of the flight, in summer it is possible from 16 o'clock, as later little bees with refreshments arrive. During the raging honey harvest, the collection of pollen by bees slows down, and after the completion of the collection of honey – again reinforced.
After the establishment of the pollen collector, the bees begin to worry greatly, therefore it is necessary to remove the lattice from it for 3-4 days; and only after the bees are accustomed to fly through the free space of the pollen trap, the grid is inserted into the working position.
Before you start collecting pollen, you need to inspect the bee hives, make sure that in the nests of bees there are 3-4 frames of fresh perga. After establishing the pollen collector and selecting the patches for 10-15 days, it is necessary to take out the calibrated gratings for 7-10 days, so that the bees replenish the stocks of the perga in the hives. Transfer the pollen collectors to new hives in 10-15 days.
During the harvesting of pollen, one must adhere to the requirements of sanitary hygiene. You have to work in a clean white coat. The room, utensils, equipment, equipment must be impeccably clean. Trays are wiped dry after releasing them from the patches.
Early in the spring and at the end of the summer it is not recommended to collect the pollen collector, since the pollen is currently low and it is of low quality.
Collection of pollen collectors